Freeriding is one of the most technical forms of longboarding. It entails riding downhill at top speed while blending a sequence of aggressive carving, technical sliding, and intricate shifting of stance between regular and goofy.
This calls for a well-designed board that can perform well in such freeriding situations. Typically, freeride longboard manufacturers focus on maximizing stability at high downhill speed and making the board easy to slide with.
While there are numerous longboard brands on the market that you can freeride on, it's only a select few that will offer you the right longboard experience. Below is a guide to choosing the appropriate freeriding board and a subsequent review of the best freeride longboards out there!
In a hurry…the best freeride longboard after 30 hours of research is the Volador 42" Freeride Longboard. It comes equipped with a set of features that make it ideal for freeriding. These are as follows:
Volador 42" Freeride Longboard
Large 42" x 9" deck
8-layer maple construction
250-pound weight capacity
Durable PU wheels
ABEC-9 precision bearings
Grip tape
Adjustable RKP aluminum trucks
Attractive graphics
---
Best Freeriding Longboard Table
 
PRODUCT
DETAILS
Price(Amazon)

My #1 Pick

Best Overall Pick

Volador 42" Freeride Longboard

Dimensions: 42" x 9"
Weight limit- 250lbs
Material: 8-ply hard-rock maple
Wheels-

70 x 51mm 78A

Mount design- Drop through

CHECK PRICE

Best Budget Pic

Junli 41 Inch Freeride Longboard

 

Dimensions: 41″ x 9.5"
Material: 8-ply natural maple
Weight limit- 300lbs
Wheels-

70 x 51mm 80A PU

Mount design- Drop through

CHECK PRICE

JUCKER HAWAII Original Longboard

Dimensions: 42" x 9" 
Material: 6-ply Maple + 2-ply Bamboo-fiberglass
Wheels-

69 x 55mm 78A

Mount design- Top mount

CHECK PRICE

BOCIN 41 inch Freeride Longboard

Dimensions: 41" x 9.5"
Material: 8-ply Canadian Maple
Weight limit- 400lbs
Wheels- 70 x 51mm 80A
Mount design- Drop through

CHECK PRICE

Best Upgrade Pick

Loaded Boards Dervish Sama Bamboo Longboard

Dimensions: 42.8" x 9"
Material: Bamboo-fiberglass laminate
Weight limit- 270lbs
Wheels- 75mm 83A
Mount design- Drop through

CHECK PRICE
Best Freeride Longboards Buying Guide
Deck Shape and Size

Both symmetrical and directional decks can be used for freeriding. Symmetrical shapes are better suited for low-speed and switch freeriding maneuvers. They typically involve larger decks with bigger wheel cutouts, which results in more clearance for larger wheels.

Meanwhile, directional freeride decks generally feature a shorter build, making them more suitable for advanced freeriding at a higher downhill speed. When it comes to the size of the deck, anything between 38" and 42" with a long wheelbase will feel secure during freeriding.

A longer wheelbase keeps the board from getting too wobbly at high speeds for more comfortable sliding.

Flex and Kick
The right freeride deck should typically be stiff as this makes it more stable at top speeds. You want to look for a well-constructed board; something like an 8 or 9-ply maple wood construction or even an advanced bamboo mixed with fiberglass hybrid build.

One common question among freeriders is whether the board should come with kicks. In this case, it will all depend on the type of riding style you employ. For instance, kicks can be useful during technical slides and fast turns, although they reduce the length of the wheelbase and stability of the longboard at high speed.
Truck Style and Height
Generally, the preferred trucks for freeride longboards are Reverse Kingpin trucks (RKP). These are quite responsive at low speeds and offer the needed endurance at higher speeds. However, for advanced freeriders, the smaller and narrower TKP (Traditional Kingpin) trucks are better suited for quick slides.

These also tend to cope well with the sheer mechanical pressure subjects to the trucks during sliding, resulting in durable service. Another crucial aspect of a freeride longboard is the height of the truck (top mount/drop down/drop through).

Shorter trucks help to add stability to the longboard. While RKP trucks are typically taller than TKP, you can still find sorter designs such as the Paris v3.
Truck Baseplate Angle
The baseplate angle refers to the angle between the hanger and the plate. Greater angles result in more responsive trucks that turn easily at lower speeds but lose stability at high speeds whereas smaller angles are more stable yet less responsive.

Typically, the baseplate angle should range between 40 and 50 degrees. A 50-degree RKP truck will work pretty fine for freeride longboarding as they deliver a mixture of good turning and stability. However, speed-focused riders tend to prefer something in the 45-degree range.
Wheel Size and Shape
Wheels are also an essential feature in your freeriding longboard setup. For starters, the size of the wheel affects how the longboard rolls. Normally, bigger wheels above 70mm will roll faster, but the diameter must be adapted to the deck wheel clearance to avoid wheel bite during carving.

Aside from the size, the shape of the wheels is another aspect to consider on freeride longboards. Round-lipped wheels offer less traction compared to sharp-lipped ones, making them easier to perform slides with.

Also, the wheel width and contact patch have a role to play when it comes to grip-vs-slide profile. Some deck characteristics will inform the choice of wheels you get. For example, low-riding decks are harder to perform slides on, so choosing a set of 81A-84A wheels will be a good idea in a freeride setup.
Durometer
Soft wheels like 78As offer you better control at high speeds and help to shave off the pace during sliding since they are grippier than harder ones. Furthermore, they feel smoother when performing slides, although not as fast as the harder options.

On the other hand, harder wheels tend to be much easier to break into slides with but are more difficult to control speed on due to the reduced traction. Additionally, harder wheels will enable you to break into longer slides at low speed.
---
Best Freeride Longboards- Individual Reviews
The Volador Freeride longboard is one of the best selling longboards on Amazon for a good reason. It is packed with numerous practical features, including a naturalistic design and reliable build to take your skating adventures to the next level. Between this and the reasonable price tag, it's easy to see why the Volador is the top choice in our list of best freeride longboards.
The longboard impresses right from the moment you lay your eyes on it. Design-wise, it features fun Avant-grade graphics that comes in pine green and oriental cherry. The 42" x 9" deck offers a fair amount of room to keep you comfortable in all kinds of riding conditions, even for people with large shoe sizes.
Its camber drop-through deck results in optimal shock absorption when you ride and a grip tape is included to keep your feet from slipping off the board.
The manufacturer chose a quality 8-ply hard-rock maple construction with epoxy glue for long-lasting performance, allowing the longboard to maintain its shape through the years. This also means you get a rigid board with very little flex, which helps to eliminate wobbling and enhance stability at high speeds.
The longboard is also strong enough to support up to 250 pounds of rider weight comfortably. However, with the durable full-maple design, you get a heavy longboard weighing 8.4 pounds. Other longboards made out of fiberglass or bamboo are naturally lighter.
Large 70 x 51mm wheels enable you to enjoy smooth riding on the streets, even for the less experienced enthusiasts. In our experience, the 78A polyurethane wheels also fair well with frequent use, so you can expect quality service without premature signs of wear.
The wheels are mounted on ABEC-9 bearings, which not only increase the smoothness of your ride but also enable you to break into slides. The bearings do a great job of supporting substantial weight, so bigger riders won't have a problem cruising on the Volador.
However, the greatest edge this freeride longboard has over its competition has to be the trucks. The 7" aluminum constructed Reverse Kingpin trucks can be adjusted to 45 or 50 degrees.
The result is incomparable maneuverability, allowing you to turn effortlessly and ride freely on those curved or steep courses. You can adjust the trucks to 50 degrees for seamless corner taking or 45 degrees when you need better shock absorption.
On the downside, the deck has a lot of tilt straight out of the package; you can easily fall off when pushing. We tried tightening the trucks during testing but there was still a sizable amount of tilt even after tightening them all the way.
Also, the white color of the wheels picks up stains easily and will not be a good choice for neat freaks. Other than that, this is an amazing freeride longboard for the price and it will suit both seasoned and entry-level freeriders who like to do tricks and dance on their boards.
---
2. Junli 41 Inch Freeride Longboard
- Best Budget Pick
The Junli 41" x 9.5" freeride longboard is a quality pick for anyone in the market for a freeride board that won't cost an arm and a leg. It will make a great choice for rookie riders looking to master the art of flawless control. The board is delivered fully assembled so you can jump on it straight out of the box.
Many people tend to loose interest on budget boards on Amazon, but the Junli will grab your attention with its offerings. Design-wise, the deck is made out of a cold-pressed 8-ply natural maple, which is strong enough to hold up to 300lbs of weight.
Instead of a grip tape, the board's surface is brushed to prevent you from slipping. Unfortunately, this is one of the compromises on this longboard as the friction is not comparable to a grip tape.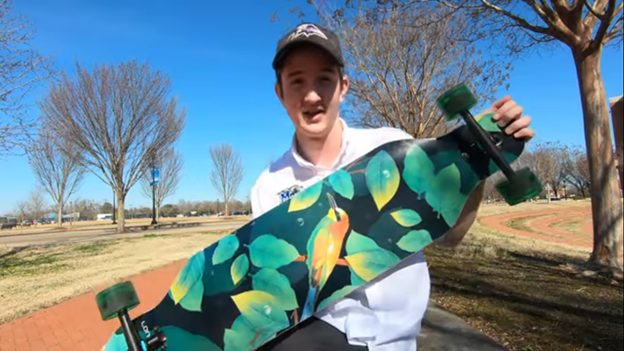 Nevertheless, the construction results in decent flex; greater than what you get on the landyachtz. This longboard rolls on durably built 70 x 51mm 80A PU wheels that work with ABEC-11 bearings. These allow you to cruise at high speed but what impressed us more during testing is how stealthy they are as the wheels roll.
Meanwhile, the 7" aluminum alloy trucks are paired with a highly elastic support pad to improve controllability and stability. However, the trucks are relatively loose out of the box; you might want to tighten them if you prefer speedy rides.
The manufacturer conveniently included a multi-tool in the package to make it easy for you when disassembling or tweaking the boards. Overall, this is a fun and solid choice that holds up well down the line.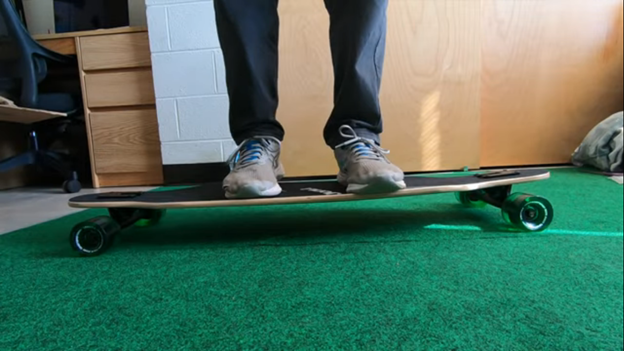 Learners will have a great time honing their skill on the Junli freeride longboard, although it might be a miss for seasoned riders hoping for something more technical. Aside from the not-very-grippy brushed surface and the 7.7-pound load it burdens you with, there isn't much to complain about the board.
---
3. JUCKER HAWAII Original Longboard-
Most Stylish Pick
This freeride longboard stands out from the crowd with its unique Maui art design, which brings out the Hawaiian spirit. It is one of the more elegant options in the market and will make for the perfect starter board. But beauty is not the only thing that this longboard thrives on; there is more to get you excited about Jucker Hawaii Makaha Kaha.
Firstly, the board features an 8-ply deck design featuring 6 layers of Canadian maple plus 2 extra layers of bamboo fiberglass at the top. This results in an extra stiff deck with little to no flex, making it the perfect board to control down a hill.
Although the manufacturer doesn't mention its weight capacity, we had a 200-pound person cruising on it during testing and it didn't show any signs of a struggle. The board measures 42" x 9", leaving you with a spacious platform to plant your feet stably as you ride.
This is paired with top mount trucks to make for enhanced responsiveness when you want to carve on the road. However, this also places the deck high above the ground, which raises your center of gravity and risks undermining your stability at high speeds.
The Makaha Kaha is designed with a kicktail. So, if you enjoy pulling off tricks on your board, this will be a great choice. You'll have a nice time rolling on the large 69 x 55mm 78A cruiser soft wheels. These glide effortlessly on the road to make for a smooth ride even on rougher surfaces.
The long wheelbase allow for slower acceleration but maintain the speed longer so that you don't have to keep on pushing.
Another great thing about this board is that you don't have to worry about wheel bite when carving and turning corners. Meanwhile, the all-around 7" aluminum trucks provide great endurance in the face of frequent use, and their glossy black color blends in intricately with the brown of the deck.
When it comes to the bearings, the board employs Jucker Hawaii ABEC 9 bearings for smooth speed. The bottom line is the Jucker Hawaii sets the bar high as far as longboard craftsmanship is concerned. Its eye-catching design will convince you to buy the unit at first glance.
However, the main grievance on this freeride longboard is that the grip tape does not last very long. You might have to get it replaced after a few months if you wish to continue enjoying a stable ride. Otherwise, the Jucker Hawaii is a reliable all-purpose board that both beginners and experienced riders will enjoy.
---
4. BOCIN 41 inch Freeride Longboard-
Best for Big Bodies
If you are getting tired of snapping your longboards every time you go for a ride, this is the best time to invest in the Bocin freeride longboard. The unit was built to last; it can support up to 400 pounds of rider weight, saving you the cost of constantly replacing your boards.
The board gets its formidable performance from an 8-ply deck construction made up of durable Canadian maple wood and coated with a high-density, waterproof, and anti-slip emery paper. This offers sufficient friction to keep your feet planted while allowing for flexibility and cushioning as you ride the board.
There is plenty of room for you to stand on the 41" x 9.5" deck, which will be perfect for big-bodied riders with large shoe sizes. Whether you want to cruise downhill at high speed or freeride, the Bocin's design helps you to improve on your balance, strength, and reaction.
This is reinforced by the elastic polyurethane pad on the board. Meanwhile, smooth 70 x 51mm wheels have been paired with ABEC-9 bearings to deliver a smooth ride on both tarmac and asphalt surfaces.
Elsewhere, the board is fitted with 7" aluminum alloy trucks that are built to last and feature an adjustable angle for a customized ride. Another great thing about this board is that it comes fully assembled and can be used straight out of the box.
This makes it a great option for beginners who are eager to get their first ride on a longboard. Not to mention that it's among the cheapest options you can buy in the market.
The main disappointment on the Bocin 41" involves the design of the board. Truthfully speaking, it's not the most visually pleasant board out there. Also, the protective wrap at the top of the deck tends to come off after a few weeks of use, which messes the look even further.
If you can find a solution for the aesthetics, the Bocin 41" freeride longboard is an inclusive option that will suit all riders, especially the heavy ones. Its main selling point has to be its affordable price, considering the decent quality you're getting.
---
5. Loaded Boards Dervish Sama Bamboo Longboard-
Best Upgrade Pick
If you have no expenses to spare in your search for the highest quality freeride longboard, then you might want to check out this exciting option from loaded boards. The Dervish Samba Bamboo features the looks and performance to match its considerable cost.
First off, the deck measures 42.8" x 9", which leaves you with a lot of room to walk on the board, spin, and switch footstep combinations as you ride. So, if you are into dancing while riding, this will be the ideal longboard to get.
Furthermore, the deck is constructed from a high-performance bamboo-fiberglass laminate that offers energetic flex for carving and can support up to 270lbs. This is the first iteration of loaded boards that featured this type of deck and now most of their current decks incorporate the same.
With the flexy deck, you'll enjoy a silky-smooth ride, as we experienced during testing. Add this to the 75mm 83A Durian wheels and you get an incomparable cruising experience. They do a good job of dampening vibrations when you ride over bumps, making for a pleasant freeride session.
Although the board can get a little noisy depending on your setup, it doesn't take anything away from the experience. Another thing you'll really like about this board is the raised kicktail, which is quite rare on drop-through longboards.
This makes it such a great pick for pulling off tricks whereas the drop platform sets the deck closer to the ground for a lower center of gravity. Furthermore, there is a slight concave on the deck, which helps to lock in your planted feet without being an obstacle when you want to get into your dancing routine.
The 180mm Paris trucks deliver reliable turn-ability and the Jehu V2 bearings further help to smoothen your ride. Overall, the components on this longboard boast high quality and it will be quite a while before you start replacing the hardware.
As impressive as the Dervish Sama Bamboo has been so far, we can't say that the board is not without fault! There are a few things that may leave you a little unimpressed. For example, the board is generally heavy. At just under 7 pounds, you don't want to be carrying it for long periods.
If that doesn't bother you, then you are not going to like how the longboard turns. The sizable deck length means the Sama has a hard time turning corners like other shorter longboards would; although a possible fix would be to loosen the trucks.
What makes the Loaded Boards Dervish tick for us is the ingenious combination of a kicktail and drop platform design. If you like to perform tricks on your freeride board, you'd be hard-pressed to find anything better than this.
While the longboard is designed for seasoned riders, beginners will have no problem learning the ropes on the Sama.
---
FAQ
What are Freeride Longboards?
Freeride longboards are a type of longboard used for freeriding; a style that features riding downhill while incorporating tricks and more techniques compared to downhill longboarding. These longboards are usually long and wide and may come with a drop-through, top mount, or drop-down truck mount design.
Can you do Tricks on a Freeride Longboard?
Freeriding is a very trick-oriented form of downhill riding. If the design of your longboard allows, you may be able to pull off freestyle tricks such as tail whips, flip tricks, manuals, and even tech slides. However, you should possess advanced skills to nail any of these.
What is Free Riding on a Longboard?
Freeriding refers to cruising down a hill on your longboard at moderate speeds. It entails performing technical maneuvers such as power sliding to better manage your descent. It is also a great way for beginners to learn fast riding on boards.
After it's all said and done, the best freeride longboard is the Volador 42" Freeride Longboard. Some of the features that make it tick for us include:
Large 42" x 9" deck
8-ply maple construction
250-pound weight capacity
Durable PU wheels
ABEC-9 precision bearings
Grip tape
Adjustable RKP aluminum trucks
Attractive graphics
---
Conclusion
Freeriding is a riding style that allows you to take your longboard experience to the next level. Whether you've been freeriding for years or are still getting your feet wet, you need the right designed longboard to make the most of it. Any the of best freeride longboards discussed above will make for a great freeriding starter pack.